How to access and park at Tech Lane Ghent Science Park/Campus Ardoyen?
On Tech Lane Campus Ardoyen, a new parking system (parking building and access control) has been introduced as of October 1, 2021.


ACCESS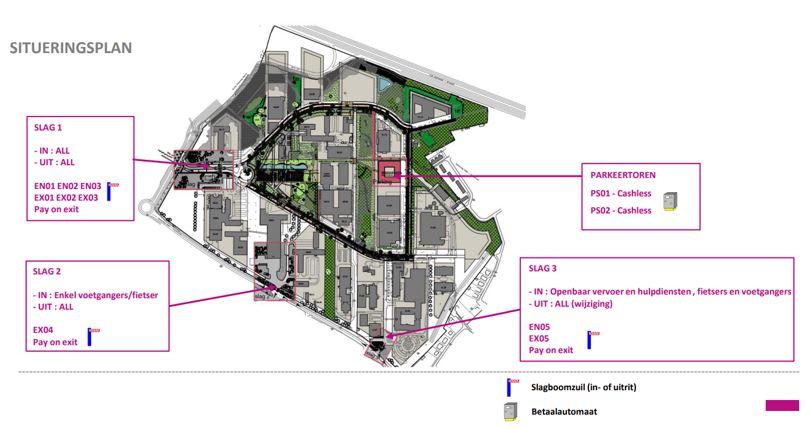 By car

Access to the park is only possible through the main entry at the OVONDE/N60.
Exiting the park is possible on three locations: the main entry at the N60 and both exits that lead to the Tramstraat.
At each entrance/exit there will be automatic barriers.

These barriers will be operated by number plate recognition. In case the number plate recognition system fails you can use a badge to open the barrier. Without a registered number plate or a badge, you will need to take a short-term parking ticket at the automatic barriers.

By foot/bike

All three entrances/exits can be used by bicycles and pedestrians.

WHERE TO PARK?
Parking
Parking is only allowed at dedicated parking lots, either the parking building or your own company parking lot.
Parking your car along the road, on the grass, on footpaths, on bicycle roads or on other places not dedicated for car parking will be no longer tolerated.
The ground level parking lot between AA tower and Bio-accelerator will be permanently closed.
Parking building
The new parking building can be used by all tenants on the park and visitors.
The building features 500 carparks and 8 electrical charging points for cars.
There is also a bicycle parking in the parking building with charging points for electric bikes.
More info on electric charging points:
Elektrische oplaadpunten
.
Indigo also provides 200 shared bikes for the campus. If you are employed by a company located on campus and your number plate has been registered, this service is free of charge. These bikes can be used to get around both on campus and off campus using an app on your smartphone (Indigo Weel Pro).
You will need to pre-register for this service by e-mailing
customerservice.be@group-indigo.com.
There will be two payment machines in the parking building on the ground floor. In addition, it will be possible to pay at the barriers at the exits (only by card).
ARRANGEMENTS FOR VISITORS AND SUPPLIERS
Please contact in advance the Tech Lane company/research institute with whom you have an appointment, regarding parking and delivery methods.
More practical information :
Indigo parking Tech Lane Campus Ardoyen